Preparing your audio files for internet transfer Mixing Services -  
six things to keep in mind: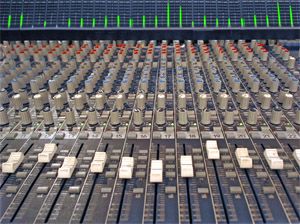 1) File Formats - The audio files you provide can be any standard WAV or AIFF format audio data file: 32 bit, 24 bit, 16 bit (only if your recorder does not have 24 bit ability) with sample rates of 44.1k, 48k, or 96k.

2) All of the files that make up each of the tracks need to start at the exact same start time and also be a continuous file until the end of the track. For example, notice the differences in the way the audio tracks look in the two pictures below. The picture on the left shows how a multitrack recording of a band typically ends up looking - with each of the instrument tracks being made up of numerous pieces of audio (created wherever the record button was hit, or edit was performed). Notice how the bass (light blue), drums (orange), guitars (green), and vocals (yellow) each have many separate pieces of audio clips that comprise their tracks and how some tracks don't start at the beginning of the song.
In the picture on the right, notice that all of the tracks now start at the same time (0:00 in this example), and each track is made up of one continuous audio file instead of numerous clips of audio . The picture below shows the way the multitrack files for each song should look before you put them in a folder (with the song's name) that would be then burned onto a CD or DVD to be delivered for our mixdown service. All recording software has a function to create a continuous file from numerous pieces (Cubase calls it "Bounce Selection", Pro Tools calls it "Consolidate Tracks")
Tracks NOT ready to be sent to me for mixing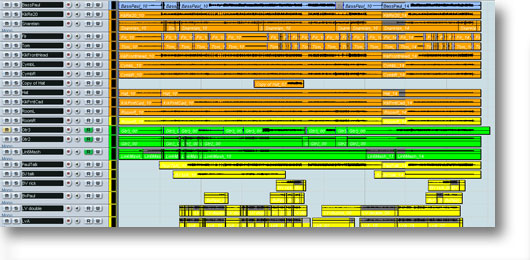 Tracks ready to be sent to me for mixing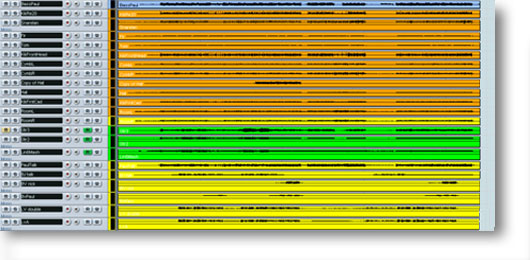 3) Each track needs to have a unique name that is descriptive of the sound on it. For example, instead of audio1, audio2, audio3, the files need to have a name related to the sound recorded on the track such as, bassamp, bassDI, snare, hihat, cymbL

4) Be sure to have cross-fades on your edits before you consolidate the tracks so that there are no clicks or pops at those points. Most DAWs have activated by default. It is also  important to make sure there are no unwanted noises on any of your tracks because our mixing service price does not include editing or noise reduction. Costs for editing, or the automation of noise reduction (to remove guitar fret noises for example) are determined on a per case basis due to variances in the complexity that can be involved. See the Mixing and Mastering price chart for editing and noise reduction price options. The tracks should also not have any added compression or limiting added to them.

5) Include your best stereo mix of that song. Such a mix can be helpful for example if you want our mix of your project to have a particular style of effect on a vocal track or guitar track, or maybe you want something done to your multitracks that is out of character for the genre of music being mixed. The stereo "rough mix" also serves as a reference for all the tracks that are supposed to be part of the final mix. The stereo rough mix is not counted in the track total for the mix service price.
6) Electronically send me the "zipped" folder for each song to be mixed via DropBox, Google drive or other similar file transfer service.  Do that after you have received the confirmation email for your project and made payment via PayPal on the Booking&Info page. Then you can send in the zipped folders that contain the songs you want mixed and/or mastered.

After you have approved mp3 versions of the mixes via email, the final mixes and/or mastered mixes will be mailed to you as a "DDP Image folder" (the electronic equivalent of a physical CD master. Our included DDP PLAYER allows you to listen to your project, as well as extract the individual songs (CD tracks) as WAV or mp3 files. The DDP Image folder sent to you  is ready to be delivered to the mastering facility or duplication facility of your choice. Feel free to contact us if you have any questions.
 
Thank you for checking out my audio recording services. I look foward to hearing your music and working with you! -  Steve Carr